A Great Success in Whitstable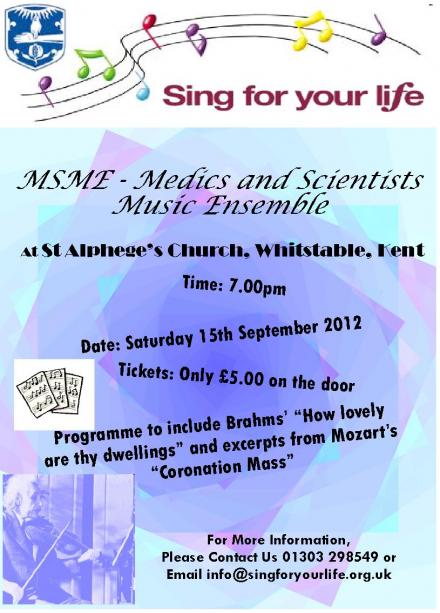 A marvellous musical evening was held at St Alphege's Church on Saturday 15th September.
The Medics & Scientists Musical Ensemble's inaugural concert demonstrated that they are indeed a very gifted group of people. There was a varied programme of music which included Opera, Jazz, Harp, Flute and Clarinet solos and a Choir - beautiful renditions enjoyed by everyone!
This was interspersed by audience participation, encouraged and conducted by Adrian Bawtree who introduced the Sing for Your Life's musical programme to one and all.
We would like to give our special thanks to Dr's Angeline and David Kanagasooriam without whom the tremendous efforts before and during the concert would not have happened.
It allowed for a real meeting of minds to demonstrate the benefits that music making can have on the Health and Wellbeing of all those involved.
The evening had a great atmosphere and was great fun. Friends of Whitstable Hospital served tea and cakes at the end which sent everyone home very content!
An amazing £450 was raised for Sing For Your Life – FANTASTIC and so a big thank you from all of us!